NAD+ is a vital coenzyme found in every cell of your body that plays a crucial role in energy metabolism. As we age, our NAD+ levels naturally decline, leading to decreased energy levels, impaired cognitive function, and increased risk of disease.

Not only can NAD+ injections help boost your energy levels, but they can also improve your overall health and well-being. NAD+ has been shown to have anti-aging effects, improve cognitive function, and protect against cellular damage.
But before you can receive this incredible treatment, you must first complete two IVs of NAD. This is because NAD is a powerful nutrient that needs to be introduced into the body gradually to ensure the best possible results. So if you're ready to take your health and wellness to the next level, get started with the NAD  intramuscular injection today!
View full details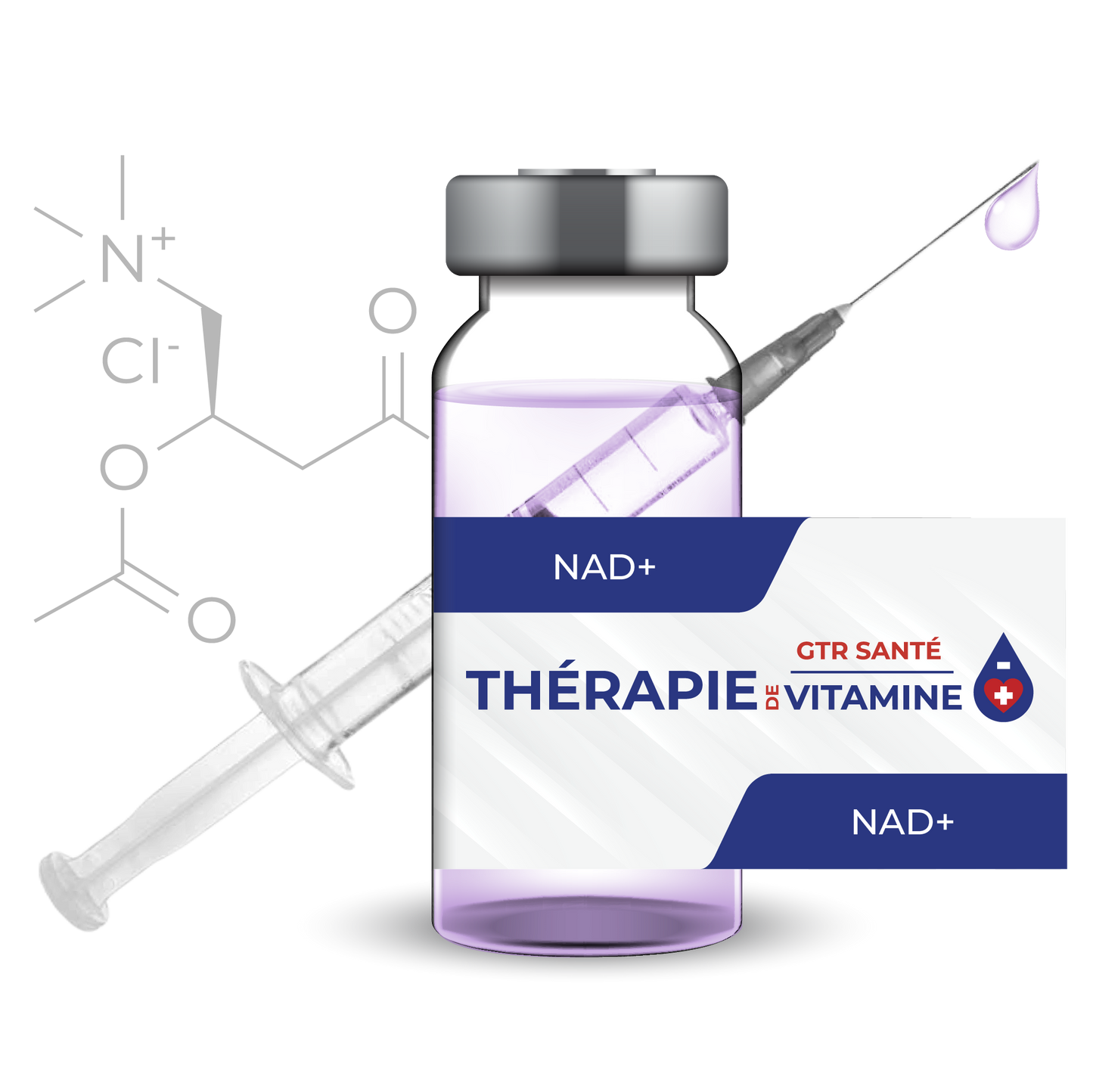 Information
Ingredients

Nicotinamide adenine dinucleotide
How Often

One session is not enough to see obvious results from a NAD+ injection, but the amount of injections you need to take depends on several factors. To start NAD+ injections,2 IVs of NAD must have been completed. It is best to speak with one of our vitamin specialist to determine the best treatment for you.

To book a consultation with one of our Vitamin specialists Click Here
Side Effects

NAD+ (Nicotinamide Adenine Dinucleotide) is a coenzyme found in every cell in the human body. It plays a critical role in various biological processes, including energy metabolism, DNA repair, and cell signaling.

NAD+ is a key component of the metabolic process that converts food into energy. It helps transfer electrons from food to oxygen, which generates ATP, the body's main energy currency.

NAD+ is also involved in DNA repair processes, which help prevent DNA damage that can lead to aging and disease. It has been shown to activate sirtuins, a family of proteins that can protect cells from stress, inflammation, and oxidative damage.

NAD+ levels decline with age, and this decline is thought to contribute to the aging process and the development of age-related diseases. Therefore, boosting NAD+ levels through supplementation or activation of NAD+ pathways has been a subject of intense research in recent years.

Overall, NAD+ is a critical coenzyme that plays a vital role in maintaining cellular health and function.

While NAD+ (Nicotinamide Adenine Dinucleotide) intermuscular injections are generally considered safe, some people may experience side effects. Some of the potential side effects of NAD+ intermuscular injections may include:

Injection site reactions: Pain, redness, and swelling at the injection site are common side effects of intermuscular injections of any kind, including NAD+.
Nausea and vomiting: Some people may experience gastrointestinal side effects, such as nausea and vomiting, after receiving NAD+ intermuscular injections.
Headache: Headaches may occur as a result of NAD+ supplementation.
Dizziness: Some people may experience dizziness or lightheadedness after receiving NAD+ intermuscular injections.
Allergic reactions: Rarely, people may experience an allergic reaction to NAD+ supplementation, which can include hives, swelling, difficulty breathing, and anaphylaxis.

It's important to note that not everyone will experience these side effects, and some people may not experience any side effects at all. If you are considering a lipotropic injection, talk to one of our nurses to discuss any potential risks or concerns.